Contoura Vision – The Latest & Safest Eye Surgery for Specs Removal
What is Contoura vision?
Contoura Vision LASIK is the first personalized laser eye procedure, It is offered by the Alcon – Wavelight Laser Company only.  It is an additional profile or software applied to their excimer laser which offers Topography linked treatment.
This can only be applied provided the doctor/centre is using the Topolyser Vario which is a diagnostic equipment for topography maps, which is then integrated into the laser. Contoura Vision LASIK is a topography-guided link procedure, which has received US FDA approval
It has more advantage for those patients with corneal abnormalities (high cylindrical powers) or those with corneal imperfections.
The benefit is that it offers improved night vision and the most accurate LASIK results as compared to standard LASIK, but for that specific set of cases.
The Contoura platform combines the measurements with your glass prescription to optimize the focusing area. This procedure helps you by creating a highly personalized treatment plan.
The Wavelight 500 Hz Laser by Alcon for Contoura Vision LASIK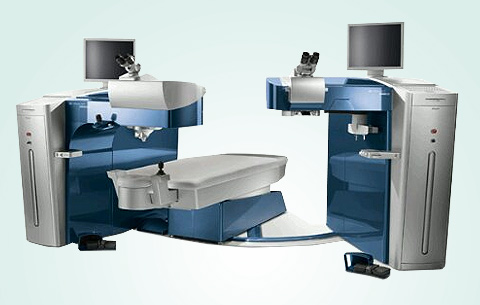 The fastest available treatment in the world treats one number (1 Dioptre) in 1.6 seconds
3 Types of customized treatments
This laser technology saves over 40% of corneal tissue compared to other lasers
Only laser technology stated by US FDA to improve night vision and enhance contrast
The laser system most respected by LASIK surgeons today
BENEFITS TO YOU
Fastest speed = faster treatment time. The faster visual recovery has better visual outcomes. Need only few hours rest
Better quality of vision
Fastest Eye Tracker in the world = laser treatment is perfect even if involuntary eye movements occur = Accurate Results
Soothing painless experience
Enhanced lifestyle after LASIK
We at GD Eye Institute follow a standard process to determine if this Laser procedure is suitable for you
This evaluation process takes approximately 2 hours at our Lasik Centre.
Your initial consultation with our Optometrist includes:
A complete health and eye history.
A measurement of your visual acuity checking your current method of vision correction (glasses).
Measurement of your spectacle prescription (refraction).
Eye Pressure Check.
Your next examination with our LASIK specialist, Dr Sanjay Gokuldas includes:
Assessment of your needs, motivation and expectations for LASIK / Laser Vision Correction.
Fine measurement of your prescription (refraction).Size and reaction of your pupils.
A digital mapping with the Topolyser Vario for the shape of your cornea: Topography maps and measurement of the thickness of your cornea: (Pachymetry).
Your eyes will be dilated by the nurse. You are asked to keep your eyes closed for a brief period of time to aid the dilation.
Further LASIK specific tests will be performed by Dr Sanjay Gokuldas
Wavefront Analysis.
Microscopic evaluation of the health and integrity of the front of your eye, the cornea.
Evaluation of Your Tear Film for Dry Eyes.
Assessment of the health of the retina and optic nerve.
Any other test the doctor finds necessary.
Consultation and discussion about your treatment options after you are declared eligible for the procedure.
Your Treatment Fee Structure and Payment procedure will be explained to you.
Our Front Desk Receptionist will help you fix the appointment for the LASIK procedure and complete the billing formalities of the day's evaluation.